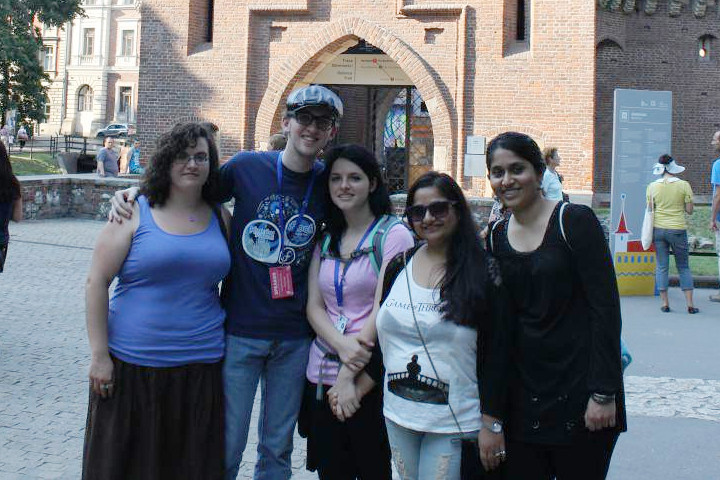 No puedo expresar la alegría de tener un equipo de personas tan maravillosas, quienes a pesar de las 12h de diferencia, han logrado mantenerme informada sobre todo lo que sucede al rededor de nuestro trabajo de Diversidad en Fedora durante el Flock. Interminables logs de IRC y Telegram han hecho esto posible. Así que acá está mi lista de pensamientos, tareas e ideas sobre las coas logradas en el Flock de Polonia.
Buzón de Diversidad
Estoy bastante impactada con la gran cantidad de casos que mi equipo de Diversidad ha obtenido durante el Flock. Tenemos personas que, a pesar de ser fantásticas para el proyecto, necesitan un poco de guía sobre como tratar a sus compañeros con mas respeto. Es hora de educar a las personas sobre como mantener un ambiente mas amigable y acogedor, sin tantas criticas a las personas nuevas, o a aquellas personas que simplemente no tienen tanto tiempo para colaborar.
Luego de realizar una encuesta personal, más del 80% de las personas que tienen dificultades encontrando un ambiente armónico en Fedora no quieren hablar en voz alta, ni quieren decir sus nombres, y casi 2/3 de ellos ni siquiera quieren reportar el caso ya que piensan que no son relevantes. SI SON RELEVANTES.
A principios de año se comentó la idea de que necesitamos un Buzón de Diversidad lo cual me reforzó Amita luego de conversar con los amigos en el Flock, para que las personas se sientan con la confianza suficiente de conversar con nosotros sin tener que poner sus nombres públicamente. Tenemos casos en otras comunidades donde por el simple hecho de hablar en voz alta han sufrido mucho mas, y transformar un problema pequeño en grande no es nuestra meta.
Este buzón debería ser capaz de registrar información personal o permitir entradas anónimas, así como adjuntar registros o pruebas del problema, para que podamos estudiarlo y buscar la mejor solución. Puedes ayudarnos? por favor, contácteme ASAP para que podamos sacar este buzón!
Programas de Inclusión
Tuvimos un excelente programa inicial con el FWD organizado el mes pasado, y a pesar de que comenzamos pequeño, lo hicimos con mucha energía. Fui parte de una jornada de Diseño online en Perú y me uní a los esfuerzos locales de las reuniones de WordPress en mi ciudad, Amita organizó un excelente FWD en India, Jona hizo un fantástico trabajo con su grupo de chicas en Albania y Christos se nos unió con un excelente panel en el FWD de Grecia. La asistencia fue fantástica, mejor de lo esperado!
Mientras mas comencemos a aprender sobre los colaboradores, podremos crear mejores programas para ayudar a cada grupo de minoría. FWD demostró ser una excelente iniciativa pero queremos mas, y para eso necesitamos el elemento mas importante, colaboradores. A pesar de que hagamos nuestro mejor esfuerzo en conocer cada minoría, aquellos que las experimentan de primera mano son quienes nos ayudarán a aprender a comprender mejor a cada colaborador de forma particular en nuestro proyecto. Nuestra idea es no solo tener reuniones anuales, pero también tener tantas reuniones en línea como sea posible para que nuestras barreras desaparezcan. Te interesa organizar alguna de estas reuniones?
Nuestra meta es organizar al menos una reunion mensual donde no solo podamos construir una mejor comunidad Fedora, pero también expandir los conocimientos que tenemos sobre cada miembro de nuestra comunidad.
Encuesta de Diversidad
Una de las primeras ideas que tuvimos para el team de Diversidad fue la (no tan famosa) encuesta, que nos ayudaría a comprender mejor como esta construida nuestra comunidad. A pesar de que tenemos infinidad de nombres en nuestra FAS, conocemos muy poco sobre nuestros colaboradores. Es imperativo seguir presionando para que esta idea se convierta en realidad.
Puedes ver el estado actual de nuestra encuesta revisando al final de los registros de nuestras reuniones de Diversidad en Polonia en este pad.
Reportes Anuales
Cada año tenemos estadísticas sobre cuantos tickets fueron resueltos, cuantos nuevos embajadores tenemos y cuantas badges fueron otorgadas, pero necesitamos estadísticas sobre nuestros esfuerzos de diversidad e inclusión.
Con reportes anuales que nos ayuden a comparar y aprender, podremos ver si nuestros esfuerzos están generando una comunidad mas acogedora, y nos está ayudando a combatir el bullying y el acoso, permitiéndonos mejorar.
Qué sigue?
Queremos escuchar tus ideas! No seas penos@!
[contact-form]
---
This post has a nicer formatting that can be seen at it's original source at
tatica.org
, so feel free to hit the link and read better version!
---