Hay algo que todos amamos, una buena charla con amigos, y eso fue el Panel de Diversidad en el Flock Krakow. En un Panel realmente interesante lleno de no solo personas increíbles, pero experimentadas, discutimos como podemos mejorar nuestros esfuerzos para lograr que todos se sientan cómodos y animarlos a hacer lo que les gusta sin que tengan que preocuparse por lo que la gente piense.
Tengo que darle un agradecimiento especial a mi equipo de Diversidad, Justin, Amita, Jona, Bee y Silvia; quienes hicieron posible que asistiera a pensar de las dificultades; no puedo expresar lo agradecida que estoy por el esfuerzo de todos! Ahora, entremos en tema: (mis disculpas si no coloco los nombres al lado de las ideas expuestas, el video no era lo suficientemente bueno para identificarlos a todos)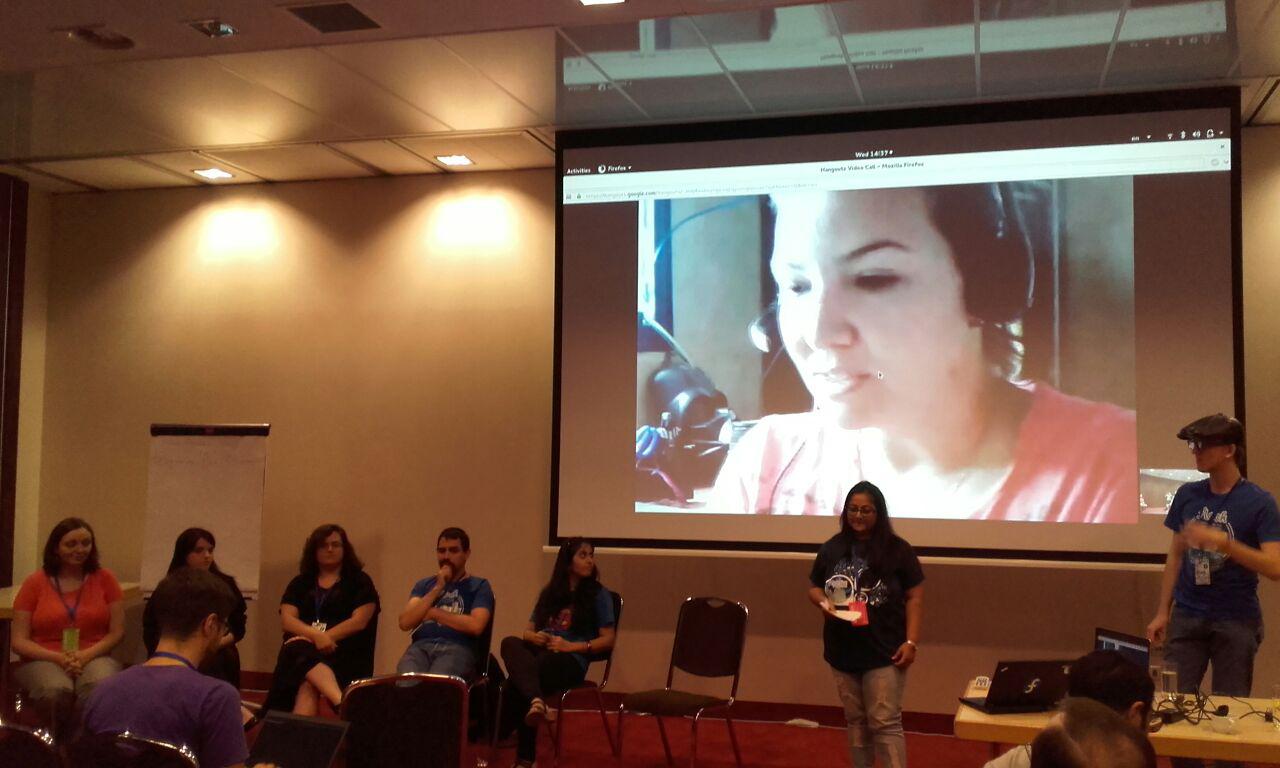 Escuchar
Es fácil llenarse la cabeza con los últimos paquetes que necesitan ser armados, sobre los últimos .po que deben ser traducidos, o sobre ese bendito px que sigue interfiriendo en el diseño; debemos tomarnos un momento para levantar la cabeza y ver las personas que trabajan con nosotros. Nuestra comunidad está llena de toneladas de personas con cualidades que hacen que el proyecto crezca cada día, sin embargo, a veces consideramos que esto es un trabajo de tiempo completo en vez de un trabajo colaborativo. El momento en que dejamos de escuchar a nuestros colaboradores que necesitan guía, nuestros números bajaran ya que no seremos capaces de  generar una nueva generación de relevo.
Difundir
Siéntete orgulloso de trabajar con otros en vez de solo buscar tus propias recompensas. La comunidad ES tu familia, y deberías tratarla como tal. no seremos capaces de incluir mas personas a nuestras líneas a menos de que hablemos de ello, siente orgullo sobre tu comunidad y deja de darle importancia al que dirán. Es fácil olvidad que todos comenzamos como novatos preguntando cosas tontas, es fácil olvidar que NOSOTROS somos quienes tenemos la responsabilidad de mostrar que hay una tarea para todos en la comunidad. Es momento de que difundamos que nos sentimos orgullosos por nuestros compañeros en el proyecto. Una gran idea es tener una persona del equipo de Diversidad como representante en cada Team, para así poder hacer que todos se sientan incluidos. No es un secreto que conocemos mas a las personas que están dentro de nuestro mismo equipo, y no conocemos mucho a el resto de personas que están en el proyecto… es un gran proyecto. Al tener un miembro de Diversidad en cada Equipo podremos reducir la brecha entre nosotros y las personas que necesiten de nuestra ayuda.
Incentivar
Yo creo que nuestros procesos son inclusivos, si no, muchos de nosotros no estaríamos aquí en primer lugar, sin embargo, si creo que tenemos algunos miembros activos que son una debilidad. Una de nuestras debilidades es que no sacamos la cabeza de lo que estamos haciendo, y no tomamos un momento para ver lo que nos rodea. Hay un MONTÓN de personas dispuestas a colaborar, sin embargo, TODOS tenemos que trabajar como mentores (sin importar si eso te agrega un +1 de karma). Con tantos badges, estadísticas y similares, de cierta forma estamos olvidando el porque somos una comunidad, no es solo para hacer cosas fantásticas con software, pero también para divertirnos. Una vez comprendamos que el número de colaboradores felices es tan importante (o mas) que el número de badges que tenemos o nuestras estadísticas en el track, seremos capaces de tener una comunidad mas saludable y acogedora.
Apoyar
No es un secreto que hay personas que se sienten incómodas y otras personas que disfrutan de esto, siempre hay un troll y un peleón. Necesitamos crear una red de soporte con la que podamos ayudar a las personas a sentirse protegidas y seguras, y también un lugar donde podamos enseñarles a lidiar con estas situaciones. No debemos construir una pared al rededor de nuestros colaboradores, debemos enseñarlos a forjar herramientas que los preparen para defenderse ante cualquier ataque. Creo que podemos ser un instrumento para enseñarle a las personas como vivir felices en este mundo.
Me gustaría agradecer a Matthew, Christoph, Marina, Laura, Kohane, Kushal y todos aquellos a quienes no les reconocí las voces mientras colaboraban en el panel; esto demuestra que hay un interés real en construir una mejor comunidad para nuestros usuarios, y no solo construir buen software.
---
This post has a nicer formatting that can be seen at it's original source at
tatica.org
, so feel free to hit the link and read better version!
---